On July 20, 2019, falling rock hit a driving car and the driver died on the spot in Taiwan. It's worth thinking that though this road section was equipped with rockfall protection net produced by a certain Chengdu enterprise, the net was smashed through and rock fell down which leading to tragedy, car crashed and people died.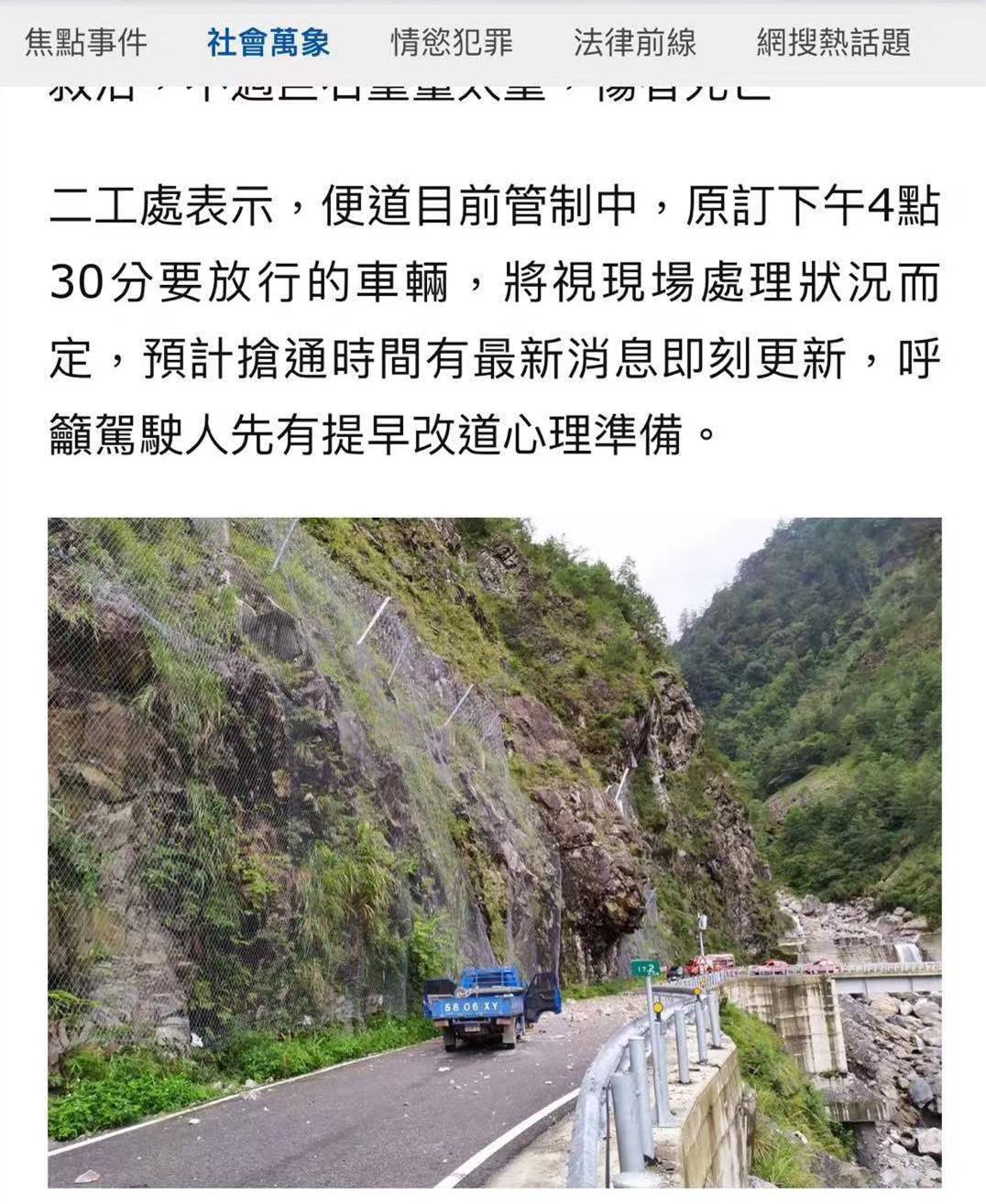 This accident rising discussion about Chinese slope rockfall protection net in Taiwan's engineering field, and they believe that European and Japanese protection net have better quality than Chinese domestic protection net. OST was hurt by this viewpoint. On June 14, 2019, a landslide occurred on 131 County Road in Nantou but OST's protection net firmly held the rocks. But the accident caused by fake and inferior products produced by other enterprises adds difficulty to OST Taiwan branch's work.
Our country invests billions into rock fall protection projects every year, but it is difficult to play its role! The root cause of these problems is not bad products! The protective net is a life-concerned project, which is a mission and responsibility. Fundamentally speaking, products are people's moral quality, and making product is behaving a descent person. The quality of products reflects people's conscience and ability. OST always believes that "quality is the lifeblood of an enterprise". Being a good man, making good quality products are mutually unified. OST has been emphasizing to employees that product quality and engineering quality can not be jerry-built, and we must make products steadfastly and improve quality steadily.
Therefore, OST built three research platforms and established a research platform for rockfall impact test of flexible protective products, which not only checked the flexible protective products, but also created conditions for researching and developing new products; three research platforms established a research and development center with Southwest Jiaotong University; three research platforms fully utilized the talent advantages of universities and scientific research institutions, invited well-known experts to study the theory of flexible protective network and set up research and development centers, and focused on joint research of point theory; three research platforms built leading advanced consulting department in the industry which brings world most advanced technology into China.
In addition, OST has been actively contributing to the promotion of industry standardization, resolutely implementing the national standard TB/T 3449-2016 Rockfall Impact Test Method and Evaluation of Flexible Passive Protection Products for Railway Slopes, insisting on ensuring product finalization before entering the market: Systematic dynamic impact test must be carried out, and an independent test report from third party must be included, and it uses "standard" to promote the standardized development of China's slope industry.
Here, OST solemnly appeals: protection net is a project involved human's life, protection net product must be certified before introducing into the market! Never treat life as games, take it seriously!