On September 24, 2021, rockfall disaster occurred near Jiange County, Guangyuan City, Jingkun Expressway, part of the mountain collapsed, rockfalls were successfully intercepted by the passive protection system of OSTS, we created one more success for safety.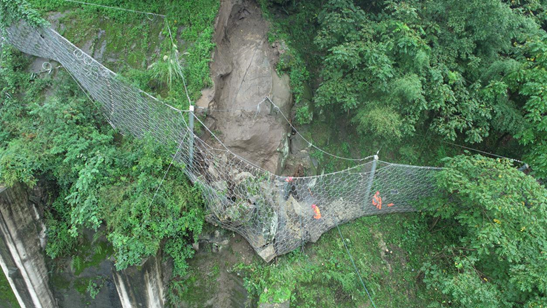 The width of the rockfall area in this landslide is about 2m, the height is about 10m, the thickness is about 1.5m, and the volume of rockfall is about 30 cubic meters and about 70 tons. Such a large amount of rockfalls was successfully intercepted by our company's protective products, effectively ensuring the normal passage of Jingkun Expressway!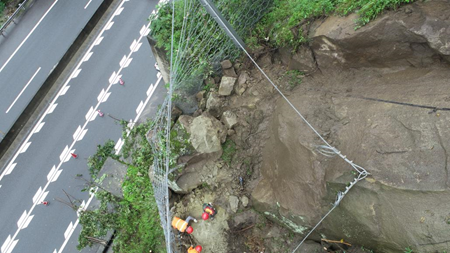 The section of the collapsed mountain is located in Jiange County, Guangyuan City, Jingkun Expressway. The protective net in this section was installed in July 20, protection energy level up to 1000kj. The passive protection system installed on the slope of this section is mainly used to intercept the unstable rockfalls on the slope.
The metal protective net is supported by steel columns and upper and lower support ropes, and laid in the middle and lower parts of the mountain that needs to be protected from rockfalls. When rockfall impact and is intercepted, the ring net absorbs part of the energy and provides a certain deformation space for the rockfall, at the same time, the energy of the rockfall is dissipated through the energy dissipating component, and the residual energy is absorbed by the system anchoring device, finally the rockfall is successfully intercepted.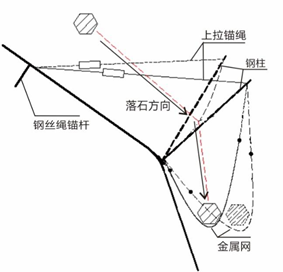 The diagram of passive protection system
As a representative enterprise of independent brand research and development in China's slope rockfall protection industry, since establishment of OSTS, we always adhere to the purpose of "care for life and guard safety", at the forefront of industry development in terms of technological innovation, product quality, product testing and inspection, etc, leading the standardization, normalization and professional development of the slope industry. In the future, OSTS will continue to practice national standards and regulations, adhere to industry standards, and expand the market influence of rockfall protection technology, strive for"care for life and guard safety".